So you're thinking about starting a Tinder account, but you live in a small town: proceed with caution.
Small town Tindering should really be its own special subcategory of Tindering, it is rife with unique small town peril. Especially if you live in Juneau, Alaska, where there are literally no roads out. Prepare yourself mentally, you will likely come across the profiles of your high school math teacher, people you had no idea were in an open relationship (wait are they in an open relationship?) and/or your second cousin. The reality of the dating limitations that come with living in a town that you can only escape on boat or plane will come closing in on you and quickly start to feel something like this: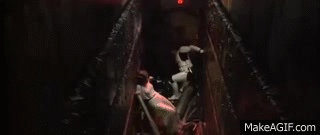 You might find yourself drowning out the sound of your friends discussing what photos you should use for your new Tinder account, gazing off in a thousand mile stare, wondering: how the fuck did I get here? What great tragedy has lead me to this? The thing is, it doesn't matter how you got here, you're here now and you might as well embrace it and start swiping left on your cousins (although if you get desperate I believe 1st cousins are legal in Alaska) and swiping right on that person you've known most of your life, but never dated -- and there's probably a good reason for it -- but you know, you're almost 30 and your life just imploded, so maybe there's something you missed about that guy's personality during the 20 years you spent in school together, and really, just stop thinking so much.
Once you've decided to take the plunge and create a Tinder account, the first thing you need to do is choose your profile pictures. It is important that you get this right, it is not as easy as it sounds. If you're a woman, don't worry about describing yourself in the "about me" section, men aren't going to read it. In fact most men won't even scroll through all your pictures. If you aren't obviously dying of syphilis, they'll swipe right. If you're a man, the description can make you or break you, I suggest that you avoid sentences like "Come wander with me. . ." or, "If you don't like me, too bad."
When choosing my own profile pictures, my friends explained to me that I'd get "more hits" using this picture:
Instead of this picture:
. . . because studies show that men swipe right more when you hit that perfect balance of outdoorsy, but not too hardcore. And by "studies" I mean an episode of Freakonomics that I heard secondhand.
Personally, I thought the second picture was better. I mean, look at that form, that jacket gracefully billowing in the wind. On a biological level alone, shouldn't men be attracted to this? Those spandex shorts don't lie... they are showcasing some real-woman birthing hips, who doesn't like sturdy barbie? This picture further illustrates how much of your shit I could carry if we were in some sort of dire situation, while still remaining feminine with a nice blue scarf and pink handlebars. What's not to like? According to my friends and Freakonomics, a lot. Although, I suppose I have to agree that the first picture is saying, "hey look, I'm laid-back cool girl, I like to bike, but I'm not about to get too sweaty or concern myself with practical footwear."
When making a Tinder account, my advice is: listen to your friends. The first photo, along with the image below, are my most successful conversation starters.
I'd like to think that the green dress pic sends a "hey, I'm funny, but more importantly, I'm sexy-funny" vibe, but maybe it's more of a "hey, I'm a fun, classy alcoholic from the past" vibe? Either way, it's working.

I've noticed that almost all men on Tinder (that I'm swiping right on -- so this says more about me than them) use the same five images:

1) A photo of them doing something in the snow (skiing, snowboarding, snowmobiling, or just standing, looking comfortable in snowy conditions).
2) A picture with their dog (which they will want you to meet, because: yay, dogs are so fucking amazing and everyone who owns a dog has the greatest fucking dog ever).
3) A picture with a group of women (to show that other attractive women find them harmless enough to allow them to be photographed together).
4) A picture with their mom (to show you that they have a healthy relationship with their family, which is important, but who knows if that's really their mom, it could just be some old lady they found on the streets).
5) A photo of them fishing (to show that they can provide for you and maybe teach you something too -- although I've never come across a hunting photo which, if the goal really is to show women that you can provide for them, would be more effective than one fish. Maybe that's not the goal, though? Maybe these men aren't putting any thought into this whatsoever? Get out of your head, Lynn).

Pictures I'm not swiping right on:
1) Men in front of large vehicles.
2) Shirtless-man mirror selfies.
3) Men chugging large quantities of alcohol, being cheered on by other men.
4) Men attending any sort of desert rave.
5) Men wearing tank tops.
Setting your mileage radius
is the final part of the process
.
In Southeast Alaska, in the summer, you can set your radius to a reasonable 100 miles. In the winter, you're going to want to crank that thing up to 1,000+ miles. And no, they don't actually allow you to set your radius that high, but they fucking should.
Having conversations and attempting to date on Tinder are where things really start to get interesting. You'd think that most conversations would begin with something as simple as "hi, how are you?" or "where are you from?" Nope. A quick "Tinder dating tips" search on Google provides insight into what kind of advice is out there for men on Tinder, and why you may not be receiving any standard conversation starters:
1) "The best lines trigger emotional responses... Avoid being generic." (You are one of many men jockeying for position, you have one chance to get this right.)
2) "At some point, she'll ask what you do for a living. Have an answer prepared ahead of time: 'Beginning a new business endeavor soon' sounds better than 'I'm unemployed and unsure what to do next.'" (Lie, lie to them.)
3) "Do not send too many messages, or messages that are too long." (Try to trigger those emotional responses in 10 words or less.)
4) "Reference details in her photos, but avoid complimenting her looks." (Pretend Tinder is not a dating app based solely on physical appearance.)
5) "Present yourself as genuinely interested in her personality." (Again, lie to them.)
6) "Build a rapport so that you can eventually take the conversation off of Tinder" and "Move the conversation off of Tinder as quickly as possible." (Separate her from the herd.)
And my personal favorite, 7) "You will open with a lot of girls, so it's important to make it time efficient. Focus on a few lines that not only work but are also easily adjustable. It will take some time to find your best opening lines, choose about five different ones and try each on at least ten girls. Afterward compare the results and keep testing the best lines even more."
Holy Jesus fuck, you want men to start tracking their Tinder opening line success rate on some sort of chart? I'm imagining all the men of Tinder doing this:
via GIPHY
Then urgently analyzing the facts and figures, saying fuck it, and going with: "Hi, you're hott? Want to bone?"
After reading all of the shit advice that's out there for men using Tinder, I'm beginning to understand why my own experiences have been so strange. The two weirdest experiences so far being: 1) a self portrait of one man's fellatio fantasy, while out to sea on his very woman-less fishing vessel -- it included a beautiful rendition of his man-bun; and 2) a hand written, and hand delivered, letter from a man asking if there had been "some sort of glitch" after I deleted my tinder account. Very awkward -- avoid this type of interaction at all costs. I'd also like to point out that these two things are setting the weirdness bar pretty high, so the other interactions I've had, while better, are still pretty odd, i.e. getting offered a "free" professional massage in exchange for tacos.
I have to admit that number 1 was actually hilarious, the only mistake I made there was deleting that beautiful piece of art from my phone, I truly regret that. The events that lead to number 2, however, were due to several critical mistakes made on my part. I know that you're thinking telling the person where I work was the first and worst mistake I made, but I would argue that leading this man to believe that: a) I liked dogs; b) I was into mountain biking; and c) I wanted to watch
Finding Nemo
as a date -- was where things really started to go wrong. In hindsight it all seems so clear, but it's that thing where it's winter and you're trying to date in, not only a small town, but a small town in Alaska, where there are no roads in and out... and the lines start to blur and you tell yourself, "a massage in exchange for tacos is actually just a really good deal," or "you could be a dog person, just work on not flinching so obviously when the dog inevitably jams its face into your crotch and pretend to listen when he tells you its name" or more concerningly, "
Finding Nemo
was a pretty good movie, I could do a
Finding Nemo
date."
So if you live in a small town and you feel like signing up for Tinder, all I ask is that you go into this with your eyes open, knowing that successfully avoiding someone is a luxury we small town folks will never know. Just when you think you've gotten out of something scot-free, the door will swing open, and your stomach will turn as you watch your Tinder match slowly walk towards you, handing you a note, asking you to Tinder him again. Be careful out there and Tinder with caution.